PETE'S BREWING DIARY 🍻
Acts-as-Pale Ale* (v1.0)
Primary Fermentation
The goal was to stay within 18-23ºC.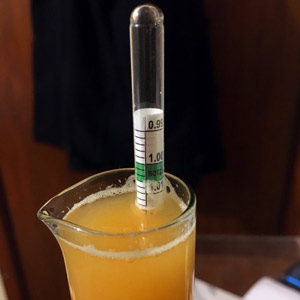 Sun, 29 May 2016
Gravity at 1.012 for a couple of days now (3.15-3.81% ABV)

Very quiet brew. Low sugar? Yeast in the wrong conditions?
Try a yeast starter next time
Watch the temperature at the beginning of the fermentation
Thu, 26 May 2016
Gravity 1.014 (~3% ABV)
Temperature steady at 20ºC for several days
Mon, 23 May 2016
Fermenter reached a high of 26.3ºC, due to both heat pad and blanket
Switched off heat pad and removed blanket, slowly cooled to 18.8ºC
Heat pad switched on, rose to approx. 20ºC
Sun, 22 May 2016
2 x 1.5kg cans of Maltexo
28g Nelson Sauvin added after hot break
Another 28g Nelson Sauvin added at 30-minute mark
Another 14g Nelson Sauvin added at 55-minute mark
Boil ended at 60-minute mark and quickly cooled to 24ºC in ice water
Topped up with water and pitched M44 US West Coast Yeast at 24ºC
Rehydrated the yeast about 20 minutes too early – kept it around 32ºC in water
Original gravity 1.041
* Name suggested by @danielfone. It's a reference to the habit of early Rails gems starting with acts_as.
Mangrove Jack's Columbus APA
Final result
Tasted awful

Poor instructions for boil?
Variable temperature?
Too long in fermenter?
Sat, 7 Nov 2015
Tue, 6 Oct 2015
Weather has turned sunny
Airlock barely bubbling
Sun, 27 Sep 2015
Another cold night, compensated by setting the room heater on a timer
Sample quite pleasant, bodes well
Added hop pellets (Columbus, Centennial)
Fri, 25 Sep 2015
Cold night, morning reading: 19º
External temperature sensor not sticking to the fermenter barrel very well
Adjusted live reading reporting rate (thanks, Kirsty!)
Gravity still over 1.040
Thu, 24 Sep 2015
Morning reading: 21º
Evening reading: 21º
Set up live temperature readings
Wed, 23 Sep 2015
Initial gravity: beyond the limits of my hydrometer, over 1.040
Used hot water (tap water, measured at 60°), not boiling water
Pitched yeast about 24.5°
Weather cold, set fermenter on heating pad